A Few Words from Our Deputy Principal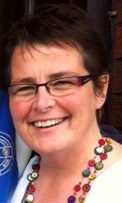 As a past-pupil of DCW t is a great privilege for me to now work in the role of Deputy Principal of this excellent school. As a teenager in Wicklow many years ago, DCW equipped me with a rich variety of intellectual, social, inter-personal, spiritual and emotional understandings and skills that have been the bedrock of my growth in adulthood. More than this, DCW was a place of hospitality, engagement, high standards in learning and in behaviour, and a grounded approach to hard work, affirmation of the person, and the importance of living the values of truth, justice, responsibility and reaching one's full potential. This is where I learned to embark on the great Dominican journey of Veritas / truth, discovering the absolute importance of living in a spirit of truthfulness and integrity each day. As a student here I felt cared for, nourished as a person and valued for the potential that was in me on every level. I am thankful for the education I was allowed to engage in here.
Despite the many pressures and demands on schools today, not least the impact of the economic recession, that same commitment to the rich values of the Dominican heritage are still alive and well in DCW. The dedication of the staff is tangible - staff care about students' learning and achievement so that their life chances are optimised. As well as their day-to-day teaching, our staff are involved in extra-curricular and co-curricular activities to ensure an all-round education for students. Countless hours are spent on planning, revising, evaluating, researching, adapting to new technologies and integrating further system demands and teaching methodologies. We are blessed to have a staff who have the best interests of students at heart and who go the extra mile to ensure that their chances of success and happiness are optimised. I include here the backbone of our school - the admin and ancillary staff who work so efficiently to maintain high standards of organisation, health and wellbeing throughout the school.
The students themselves of course are at the heart of the school. There is an atmosphere of friendliness, welcome, calm, fun and respect both in class and on the corridors. We are incredibly proud of our students in DCW. Their academic and sporting successes are always to be welcomed, but so too are the moments of kindness, consideration, affirmation and helpfulness that students engage in with one another and with staff. The parents and the Board of Management must also be acknowledged for their selfless contribution to the young people of Wicklow - in these difficult times it is important to appreciate the sacrifices that are made, and the voluntary hours invested in the education of our students. This is a contribution that is essential to the success of the school, and it permeates the smooth running of the school.
Finally, no school can operate without the commitment of leadership. It is a great privilege for me to work in the capacity of Deputy Principal with such a visionary, energetic and enthusiastic Principal, Lorraine Mynes. It is widely acknowledged that principals have extremely demanding jobs today managing and leading schools, with reduced funding and allocations from the Dept. accompanied by ever-increasing system demands such as Literacy and Numeracy, School Self-Evaluation, and integration of Information and Communication Technologies - to name but a few. As well as being an amazing manager, Ms Mynes' vision for the school and her ability to lead that vision, and be a leader of learning in the school, is both admirable and inspirational. Under her leadership, students in DCW are in no doubt about the high standards that are expected in both behaviour and in their own personal achievements, whether academic, sporting or other. Her energy and enthusiasm, combined with a grounded and informed approach to education ensure a positive climate of learning for all. It is refreshing to know that all the richness of the Dominican values that I encountered here many years ago are just as vibrant here today because of the rich interplay and genuine commitment of all concerned.
I very much look forward to our journey ahead in DCW. It is my intention to continue to ensure that all that is so excellent in Dominican education is protected and nurtured here for many more years to come. It is an honour to work among the vibrancy of our students, the dedication of our staff, parents and BOM, and the inspirational leadership of our principal. Together we can make a significant impact on the quality of our students' lives and their life chances. Now more than ever we know the importance of relationship and community-building so that our young people will be sustained in all the challenges that they encounter today and for many years to come. In the spirit of our mission statement we will work together in a spirit of truth to nourish the gifts of each student, all made in the image of God. Let that be at the heart of all we do in DCW and we will know that we have played our part in allowing the great Dominican tradition to be embedded for generations to come.
Lorraine Gillespie
Deputy Principal